At the New York auto show this morning, Honda revealed the second and third powertrains for its Clarity mid-size sedan, now offered only in California with a hydrogen fuel-cell powertrain.
The 2017 Honda Clarity Electric and 2018 Honda Clarity Plug-In Hybrid are powered by a battery pack and a plug-in hybrid powertrain, respectively.
The plug-in hybrid will be by far the highest-volume version in the lineup, Honda says.
But the company has modest aims for the entire Clarity lineup, targeting sales of 75,000 units—over four years.
While the company didn't give specifics of its distribution plans, the Clarity Fuel Cell is now sold only to drivers in certain California regions who live or work near one of the 32 public hydrogen fueling stations now in operation in the state.
Clarity Electric: 80 miles of range
The Clarity Electric is likely to be sold only in California and the other states that have adopted its stricter emission rules, including its mandate for sales of certain numbers of zero-emission vehicles.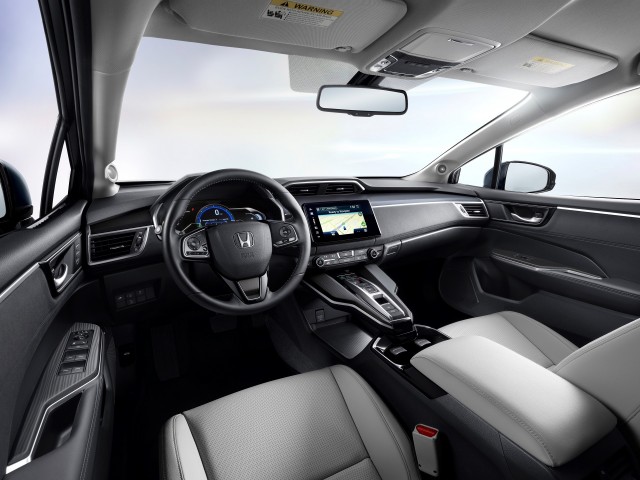 2017 Honda Clarity Electric
The electric Clarity sedan will have another, challenge, though.
Honda representatives confirmed that its battery range will be "about 80 miles," and it will enter the market just as smaller electric cars get enhanced ranges of 100 to 125 miles.
For 2017 and 2018, that group of cars includes the BMW i3 (114 miles), Ford Focus Electric (115 miles), Hyundai Ioniq Electric (124 miles), Nissan Leaf (107 miles), and Volkswagen e-Golf (125 miles).
Then there's the 2017 Chevrolet Bolt EV, a hatchback with an EPA-rated 238 miles of range—which takes it into Tesla territory.
Every version of the Tesla Model S, the all-electric hatchback sedan whose shape closest to the Clarity's, has a rated range of more than 200 miles—and the Model S 100D has a rated range of 335 miles.
Honda's vice president of environmental business development, Steve Center.
told Automotive News
in February that Honda is known for good value and mass-market prices, but a higher battery capacity would have put the Clarity Electric out of range for many buyers.
2017 Honda Clarity Electric
The all-electric Clarity is expected to start at a price of around $35,000 before incentives.
It's powered by a 25.5-kilowatt-hour lithium-ion battery pack that sends electricity to a 120-kilowatt (161-horsepower) electric motor driving the front wheels, rated at up to 221 lb-ft of torque.
Honda fits the Clarity Electric with a DC fast-charging port using the Combined Charge Standard (CCS) port, letting it recharge to 80 percent of capacity in half an hour.
EPA ratings are expected to be 111 MPGe combined. Miles Per Gallon Equivalent, or MPGe, is a measure of how far a car can travel electrically on the same amount of energy as contained in 1 gallon of gasoline.
Honda says the battery-electric version of the Clarity will go on sale "later this year" in California and Oregon.
2018 Honda Clarity Plug-In Hybrid
Clarity Plug-In Hybrid: 42 miles of range, 105 MPGe
The Clarity Plug-In Hybrid, listed as a 2018 model, is the only one of the trio that combines a battery, an electric motor, and a combustion engines.
Its 1.5-liter Atkinson cycle 4-cylinder engine is used both to generate electricity to power a 135-kw (181-hp) electric motor that puts out 232 lb.-ft. of torque and to recharge a 17-kilowatt-hour lithium-ion battery pack.
Under certain conditions, Honda says, the engine also powers the wheels directly. The combined range between battery and gas tank is estimated at 330 miles or more.