Now that Mitsubishi has successfully rolled out their all-electric iMiev, they have set their sights on a range extended electric vehicle, ala the Chevy Volt. We wish them well and look forward to more specifics as they become available.
From
Register Hardware:
Leccy Tech Mitsubishi has confirmed plans to launch a range-extended hybrid at the end of 2010.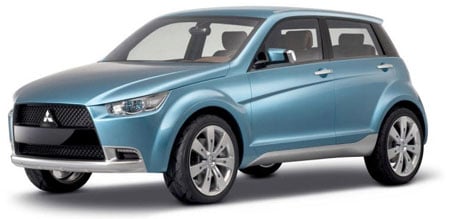 Will Mitsubishi's range-extended hybrid be based on the cX concept?
The company told Register Hardware that the vehicle will be a small SUV, akin to Nissan's Qashqai or Toyota's RAV4. This could suggest a car very similar in design to the cX concept, unveiled by Mitsubishi at the 2007 Frankfurt motor show.
Mitsubishi also told us that the, as-yet unnamed, leccy SUV will use a drive train similar in concept to the Voltec system - currently being developed for the Chevrolet Volt by General Motors.
While Mitsubishi wasn't willing to release many precise technical details about its upcoming vehicle, we do know that it will have a lithium-ion battery pack inside that can be recharged from a wall socket.
The pack will provide enough power for 40 miles of electric-only driving. Once depleted, a small petrol engine – the 52bhp, 660cc turbo-charged three cylinder motor from the Mitsubishi 'i' city car would seem a likely choice – will kick in. This will drive a generator, which in turn will power the electric-drive motors, re-charge the battery pack and keep you moving for another 200 miles or so.
Assuming Mitsubishi manages to get the hybrid into showrooms on schedule, then the car will go head-to-head with the Volt – due to be launched in North America during late 2010, into Europe in 2011 and across other right-hand drive markets throughout 2012.
And Mitsubishi's confident it can meet the deadline, emphasising the fact that bringing the iMiEV to market as the first genuine mass-market e-car gives it a head start in the race to develop a usable range of e-cars to fit most user needs and circumstances.
The company refused to speculate about the likely cost of the upcoming range-extended hybrid, but did reveal that Blighty will be one of the first overseas markets to get it.