General Motors has always had an aggressive schedule for launching its 2017 Chevrolet Bolt EV, the industry's first mass-priced
electric
car with 200 miles or more of range. It was revealed as a concept just 18 months ago at the 2015 Detroit
Auto
Show, with a production version unveiled at this year's Detroit show. Now, the company has promised that Bolt EVs will start arriving at Chevy dealerships between October and December of this year. The timing was confirmed by Alan Batey, GM's president for North America, who spoke to reporters on Wednesday, according to a
report in The Detroit News
. What remains unclear is where the earliest Bolt EVs will go after they reach Chevrolet dealers. Some reports have suggested that drivers for the Lyft ride-sharing service—in which GM has invested—will be offered the majority of early Bolts, with notable numbers of deliveries to retail buyers not planned until next spring.
2017 Chevrolet Bolt EV
GM has repeatedly declined to specify its retail strategy, delivery schedule, or marketing plans for the Bolt EV, even as advocates and owners have questioned its ability to explain and market the advantages of plug-in electric cars, including the Bolt EV. An ad last year for the second-generation 2016 Chevy Volt plug-in hybrid highlighted drawbacks of all-electric cars, inciting range anxiety with the specter of a driver running out of battery range before reaching a final destination. Observers suggested this was an unusual move from a company that planned to launch an all-electric car within two years. According to the paper, "Batey said Chevy is working on different ways to launch the car and interact with customers, but he said it was too early to disclose those ideas." The Bolt EV will be built at the GM plant in Orion Township, Michigan, that now assembles the subcompact Chevrolet Sonic sedan and hatchback. While it was expected to share some underpinnings with that car, GM's engineers said that in the end, the Bolt EV has an almost entirely unique under-structure due to the differences in crash-test performance in such a small car when the engine and transmission are removed.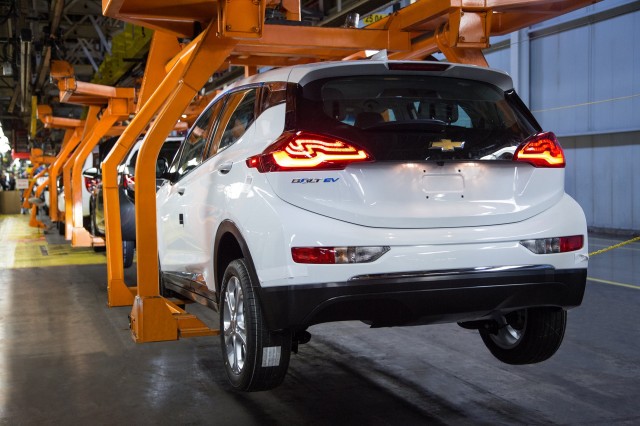 2017 Chevrolet Bolt EV pre-production vehicles at Orion Township Assembly Plant, March 2016
The company released photos and video in March showing pre-production Bolt EVs coming down the line. Prototypes are frequently seen on the roads of the greater Detroit area.
Meanwhile, the industry remains skeptical about the date on which the first Tesla Model 3 electric cars begin rolling out of that company's assembly plant in Fremont, California.
If GM can launch the Bolt EV on time, in appropriate volumes, and the car doesn't suffer any rollout problems, it may underscore the advantage of being an experienced "legacy maker" in a highly complex and brutally costly industry. A second generation of the Nissan Leaf, which remains by far the world's best-selling electric car, is expected to launch for 2018 as a major competitor to the Bolt. GM has said that it will offer the 2017 Bolt EV for sale at Chevrolet dealers in all 50 states. It's likely, however, to deliver the first cars to California and perhaps other states that have adopted the Golden State's more stringent emission rules.